Compaq Presario SR2163WM Desktop PC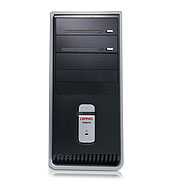 Compaq Presario SR2163WM
Can support up to 2 GB of memory (max)
Here are a few memory upgrades for this type of motherboard.
Click here
If you want to go the max which is 2 GB.
Remember when selecting the memory for your computer, it has to be the one that fits your motherboard.
You can spend roughly $15.99 on a 1 GB stick of memory or go for the max of 2 GB and spend $30.00.
This computer uses a SATA Hard Drive. Bottom photo is the SATA type drive. which tends to be a lot faster then the one above which has the IDE connector. I'll get into more detail on SATA vs IDE in another blog post later.
The current drive you have is fine, if all you are doing is surfing the internet. But if you are using your pic for downloading movies, music, playing video games or storing stuff that take a lot of space. U can upgrade your hard drive to 500 GB or buy and external hard drive where you can store photos, movies and music.
Anyway, back to upgrading your memory. upgrade your memory first, if this helps, stick with it.
Decided to upgrade memory
click here
this is from the HP website for this computer model. It has tutorials on how to replace your memory.
Any questions please feel free to contact me on facebook or @ pctechgirl@charter.net